These are the very best smartphones money can buy. The T3 team has tested every handset that matters, and this guide is designed to provide you with all the key info you need so you can choose the best smartphone for you.
We only include the best phones in this list, so you can be sure you're always getting the very latest, cutting-edge device. We've listed all the phones in order of preference, too, so there's no confusion. The first phone is the best phone.
So whether you're after the most powerful Android smartphone money can buy, or a shiny new iPhone upgrade, we've seen and extensively tested them all so you don't have to.
Take a look and we guarantee you'll find the best smartphone for your needs, beginning with the very best phone currently available.
1. IPHONE X
Simply the best smartphone you can buy today
SPECIFICATIONS
Dimensions: 
143.6 x 70.9 x 7.7mm
Resolution: 
1125 x 2436 pixels
REASONS TO BUY
+

Incredibly desirable
+

Future of the iPhone
REASONS TO AVOID
–

Gestures take getting used to
–

Fragile
Is the iPhone X the best phone this year? Yes. But only by a whisker. The Samsung Galaxy S9 is so close (especially if you prefer Android), while Apple's own iPhone 8 Plus gives you so much of the iPhone X technology without the extra cost. In the end though, it's the ultra-desirability of the iPhone X that wins it.
The first thing that strikes you about the design is, obviously, the 5.8-inch AMOLED screen.  It's certainly true that the edge-to-edge screen looks absolutely stunning, both from a design perspective and from a technology viewpoint.
Of course, there's also the top 'notch'. This does intrude on the screen slightly, especially when you want to be fully immersed in something, but call me crazy – I kind of like it. It gives the phone a visual identity.
Aside from the screen you've got Apple's blazing fast A11 Bionic processor, fantastic dual camera with portrait lighting mode, and FaceID (which actually works very well).
It's the marriage of software and hardware, something that Apple's always been good at, that's so effective here and that's especially the case when it comes to Face ID.
Of course, we have to mention the price. The iPhone X costs a considerable £999, making it the most expensive iPhone to date.
We'll start by saying this, if you think that's too much money then the iPhone X isn't for you. Is it worth £999? Well, it's complicated. Just like a Louis Vuitton Bag, there are more affordable alternatives that do exactly the same job, but it's all about prestige and branding.
Apple has slowly been morphing into a luxury goods company for a while now, and the iPhone X is another step in that direction. It's essentially a luxury item from a designer brand, so I feel it charging £999 is somehow more justified than Samsung charging £850 for the Note 8.
Basically, it's the refresh the iPhone needed, and Apple has succeeded in creating an incredibly desirable package. It's the best smartphone you can buy.
2. SAMSUNG GALAXY S9
The OTHER best smartphone you can buy today…
SPECIFICATIONS
Dimensions: 
147.7 x 68.7 x 8.5mm
Resolution: 
1440 x 2960 pixels
REASONS TO BUY
+

Amazing design
+

Almost flawless
The Samsung Galaxy S9 is the best Android smartphone in the world right now, boasting the brilliant Infinity Edge display which occupies 84-percent of the body and cutting-edge guts. Yep, this futuristic smartphone is a looker, and Samsung managed to resist the temptation to add an iPhone X-style notch, which is definitely a good thing. It has its own identity.
The S9 is the complete package, as well as the amazing display and industry-leading specs, this handset also has decent battery life, an excellent camera and amazing performance. With all of that combined, you get not only the best-looking smartphone, but one of the top performing smartphones in the universe. Yes, the universe!
We think the 5.8-inch S9 is perfect, but if you're after an ever larger smartphone, Samsung also offers the Galaxy S9+, which features a massive 6.2-inch display.
Okay, so unfortunately Samsung hasn't released a perfect phone – there are a few small niggles – it's not the most exciting update over the S8 (which can now be purchased relatively cheap) and Bixby is still inferior to Google Assistant. But we guarantee you won't be disappointed if you buy this phone.
3. HUAWEI P20 PRO
The Huawei P20 Pro is a legitimate premium alternative to the iPhone X
SPECIFICATIONS
Dimensions: 
155 x 73.9 x 7.8mm
Resolution: 
1080 x 2244 pixels
Rear camera: 
Triple 40MP + 20MP + 8MP Leica
REASONS TO BUY
+

Premium design
+

Battery life
+

Awesome camera
REASONS TO AVOID
–

Software
–

'Just' HD screen
The Huawei P20 Pro is the latest flagship from the Chinese smartphone giant, and we really, really like it. It's the ideal smartphone if you're looking for a premium alternative to the iPhone X and Samsung Galaxy S9, but it's also got plenty of features which make it great device in its own right.
We love the P20 Pro's Leica-branded triple camera. Yes, you read that right, this camera has three camera sensors, a 40MP RGB, 20MP Monochrome, and 8MP telephoto. The three lenses are can be used to capture some very pleasing images.
The OS is coming on leaps and bounds as well, and the design and feel of this device really is fantastic.
It's a smartphone that really puts a cat among the pigeons. The pigeons in this case being Samsung, Apple, and Google.
But it's not quite perfect. The UI still lags behind its competitors, and some won't be too fond of the iPhone X-esque design.
Despite its flaws, we think it's a brilliant smartphone, thanks to a neat blend of design, features, and camera. Plus, the battery life is class leading, capable of lasting around two days.
4. GOOGLE PIXEL 2 XL
The best smartphone camera
SPECIFICATIONS
Dimensions: 
157.9 x 76.7 x 7.9mm
Resolution: 
1440 x 2880 pixels
CPU: 
Qualcomm Snapdragon 835
REASONS TO BUY
+

Great camera
+

Super software
REASONS TO AVOID
–

Plastic-like metal
–

Lackluster screen
We can't tell you how close it is between the Google Pixel 2 XL, iPhone X, P20 Pro and S9 for the title of 'best smartphone in the world.' All four are great smartphones, but the sleek design, and amazing screen puts the iPhone, Huawei, and Samsung in the lead, just.
The Google Pixel 2 XL is still an amazing smartphone – especially if you prioritise camera quality and want software straight from Google.
Whether it's the excellent camera, the metal-and-glass chassis, the oodles of power involved or just the fact that the software and virtual assistant work in perfect harmony with the hardware, Google's got a lot right here and this is a brilliant phone.
2017 was when Google came into its stride with the Pixel sequels. Google now has clear vision for its flagship smartphones. The design is distinctive and has character, and the Pixel 2 XL's edge-to-edge screen makes it the one to go for.
Of course, if you prefer smaller screens, the 5-inch Pixel 2 is also available, which is identical the OG (apart from size and screen).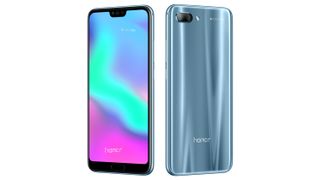 5. HONOR 10
The best value smartphone available right now
SPECIFICATIONS
Dimensions: 
149.6×71.2×7.7mm
Resolution: 
1080×2280 pixels
Rear camera: 
Dual 16MP + 24MP
REASONS TO BUY
+

Great price
+

Excellent design
+

Fantastic camera
The Honor 10 is a fantastic smartphone, partnering a young, hyper-modern, and eye-catching design with good hardware and an impressive suite of features, including some genuinely impressive AI functions.
The fact that this phone costs just £399 is absolutely nuts, too, especially when you take into account its hardware benchmarks that are right up there among those logged by much more expensive handsets.
The AI camera functionality is also really nicely integrated, and the camera system grants you serious flexibility and scope to take creative shots.
Overall, then, a great new phone from Honor that shows, more than anything, that the Chinese maker is going from strength to strength.
5. ONEPLUS 6
A beautiful Android smartphone with speed that kills
SPECIFICATIONS
Dimensions: 
155.7 x 75.4 x 7.75mm
Resolution: 
1080 x 2280 pixels
CPU: 
Qualcomm Snapdragon 845
Rear camera: 
Dual 16MP f/1.7 + 20MP f/1.7
REASONS TO BUY
+

Incredibly fast with big benchmark scores
+

Lower price for a flagship phone
+

Beautiful and premium build
REASONS TO AVOID
–

Not waterproof
–

No wireless charging
The OnePlus 6 is one of the absolute fastest Android phones on the market. Its combination of the high-end Snapdragon 845 CPU, powerful Adreno 630 GPU, and a whopping 8GB of RAM (that's 4GB more than the Samsung Galaxy S9), means that the OnePlus 6 smokes the opposition in terms of benchmark scores.
The phone's use of Android 8.1 Oreo and OnePlus' own light skin of vanilla, OxygenOS, adds to this rapidity, too, with menu navigation as well as app loading and switching a buttery smooth experience.
The phone's 6.28-inch 19:9 AMOLED screen isn't the absolute best on the market, nor is its camera system or battery, however, they are all competitive and help deliver a top all-round mobile package. Plus, the fact the OnePlus 6 retails for quite a lot less than other flagships makes it an even more attractive proposition.
6. IPHONE 8 PLUS
Overshadowed by the X, but still a brilliant smartphone
SPECIFICATIONS
Dimensions: 
158.4 x 78.1 x 7.5mm
Resolution: 
1080 x 1920 pixels
REASONS TO BUY
+

Excellent camera
+

Convenient wireless charging
REASONS TO AVOID
–

Dated design
–

iPhone X is coming
Here we have the iPhone 8 Plus – probably one of the most anticipated smartphones of the year. Some feel its sheer size does make it tricky to hold, but there's no denying Apple's beautiful 5.5-incher is a winner. If you prefer iOS to Android and don't want to splash out on the iPhone X, this should be your first choice.
Apple has chosen to stick with a similar design to the iPhone 7, swapping the out the all-metal case for a glass back and making it heavier (more premium feeling). There is a glorious new Gold colourway available, and to top it off, the glass casing allows Apple to add wireless charging. The S8 and recent S9 design does make the iPhone 8 feel slightly dated now, however.
It's inside where the iPhone 8 Plus has received the biggest overhaul – now packing Apple's blazing fast A11 Bionic processor. The dual camera has also received a significant upgrade, now a better sensor and smart software powering it. To finish it off, the iPhone 8 Plus comes running iOS 11, Apple's latest and greatest mobile OS.
It is expensive, and may be too large for some, so the standard iPhone 8 with a 4.7-inch display is also worth your consideration.
7. HTC U11+
The best smartphone for music lovers
SPECIFICATIONS
Dimensions: 
158.5 x 74.9 x 8.5mm
Resolution: 
1440 x 2880 pixels
CPU: 
Qualcomm Snapdragon 835
Storage: 
64/128 GB (expandable)
REASONS TO BUY
+

Great camera
+

Amazing sound and software
REASONS TO AVOID
–

Only available from HTC
–

Fragile design
The HTC U11+ is the most impressive smartphone HTC has made in many years. Taking the best bits from the U11 and combining it with a sexy edge-to-edge display, with a bit of extra innovation thrown in for good measure.
It's again shown the rest of the competition how to make a premium smartphone, and its camera, battery life and performance is right up there too. HTC has really worked on the criticisms of the previous generation devices, and created their best ever flagship smartphone.
It's great to see HTC innovating with the squeezable edges, which make interacting with the device much easier, and the minimal tweaks they've made to stock Android are amazing, making this one of our favourite smartphones in 2018.
9. LG G6
First of the bezel-less phones, with a great dual camera
SPECIFICATIONS
Dimensions: 
148.9 x 71.9 x 7.9mm
Resolution: 
1440 x 2880 pixels
CPU: 
Qualcomm Snapdragon 821
REASONS TO BUY
+

Large screen
+

Dual camera
REASONS TO AVOID
–

Less premium than rivals
–

UI
LG has finally made a good-looking, premium smartphone free from gimmicks. There are a lot of features we love here – that wide-angle screen is great, the bezels are tiny, and the dual-camera is really handy. Basically, we really enjoyed using it.
But it's far from a perfect phone. LG has used a 2016 chipset, so it's not the most efficient smartphone available, and the skin over Android Nougat isn't the best out there. It also feels less premium than its rivals, with a slightly hollow feel to the rear casing.
Certainly though, LG has done enough to redeem itself from the unfortunately unsuccessful G5 last year. It wasn't the best Android phone released in 2017, but we don't think you'll regret buying it, especially if you can pick it up for a decent price.
10. IPHONE SE
The best small smartphone
SPECIFICATIONS
Dimensions: 
123.8 x 58.6 x 7.6mm
Resolution: 
640 x 1136 pixels
Front camera: 
1.2MP f/2.4
REASONS TO BUY
+

It's small!
+

Great battery life
REASONS TO AVOID
–

Old, boxy design
–

Due an update
Notice how all of these smartphones have 5+ inch screens? What if you have small hands? You can't reach all four corners of the screen. It's a problem not many of us face, but the truth is — some people just prefer smaller phones but don't want to sacrifice high-end specs. The iPhone SE is for you.
With a 4-inch screen and guts which match the iPhone 6S, including the 12MP rear camera, 2GB RAM, Apple Pay, Retina display, and Apple A9 chipset, this thing is a little pocket rocket.
There are a few drawbacks – the design isn't beautifully curvaceous like the iPhone 8 (the SE is based on the iPhone 5), the front-facing camera has fewer megapixels, and the Touch ID fingerprint sensor is older and therefore slower. The best thing about it? Despite its range-topping specs, the iPhone SE is also one of the cheapest smartphones Apple has ever released. What's not to love?
11. MOTOROLA MOTO Z2 FORCE
The best durable smartphone
SPECIFICATIONS
Dimensions: 
155.8 x 76 x 6.1 mm
Resolution: 
1440 x 2560 pixels
CPU: 
Qualcomm Snapdragon 835
REASONS TO BUY
+

Durable design
+

Unbreakable screen
REASONS TO AVOID
–

Weak battery life
–

Not waterproof
The Moto Z2 Force is a refreshing phone – it's both designed to be sleek and sophisticated, as well as durable with the ability to survive a beating. That's mainly down to the screen, which features a thick, toughened outer layer which won't break – no matter how hard you try.
The casing is also pretty rugged, with a strong aluminium skeleton, the Moto Z2 Force doesn't look like it belongs in a workman's tool bog. The specs are up there with every other device on this list, and the ecosystem of Moto Mods is impressive to.
Android is left close to stock which is also good news, but battery life isn't stellar.
HIGHLY COMMENDED
If you're looking for a smartphone with the best battery life, you'll want the Lenovo P2. The P2 isn't pretty, it doesn't have a sexy bezel-less display, and it doesn't have an amazing camera. It does have the best battery life of any smartphone we've ever tested, with the P2 lasting up to three days!
If you're really into consuming media on your smartphone, then you'll want to check out the Razer Phone. It's the best device for watching films and gaming we've reviewed. The 120Hz screen is gorgeous, the dual speakers are amazing, and the battery life if up there as well. It's a shame the camera lets it down slightly.
Yes, the Samsung Galaxy S9 has just been released, but it's not the biggest update over the already brilliant Samsung Galaxy S8. If you're not convinced by Animoji or the tweaked camera, you can pick up the S8 for much cheaper than the S9, it's still a very good smartphone.
Source: T3
Related posts